Looking for a healthy and fresh catering for your event with lots of variety?
We offer catering for small and large events 7 days a week!
We can make (mini) pokébowls, vegan dishes, burrito bowls, burritos, rolls and appetizers.
Please contact us for the full catering menu options and special offer list and let us know what your wishes are via [email protected], call us or fill in the form.
Looking for a fresh catering?
Fill in the form and we will contact you shortly
Varied pokebowls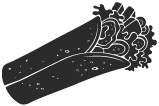 fresh burrito and fusion rolls

vega(n) options

Glutenfree options

Daily fresh ingredients