Varied pokebowls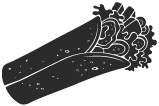 fresh burrito and fusion rolls

vega(n) options

Glutenfree options

Daily fresh ingredients
Ritos started in Utrecht in 2017 with the idea to serve two cuisines in one menu: Mexican and Pokébowls. In the same year, we are proud to say we have won the Best Restaurant Award in Utrecht. 
In August 2018 we opened a new location Amsterdam. Until further notice due to the pandemic, you are welcome for take-away.
Our mission is to serve dishes that are healthy, fresh, fast ánd has high quality ingredients.
We serve Mexican burritos and Bowls, Pokébowls, sushi- and  fusion burritos. (In Bio Based packages!) 
We also serve Vegan and Gluten-free meals.

And because of the two cuisines are combined, the choices are unlimited!
Originally Pokébowl is a bowl with a base of sushi rice, vegetables and fish as protein. But since we have two cuisines you can also choose to have a Pokébowl with meat as protein or a Vegan option.
Mexican Pokébowls, or Hawaiian Burritos? 😉
Come and visit us in in heart of Amersfoort, Utrecht, Amsterdam, The Hague & Eindhoven. We are open 7 days a week!